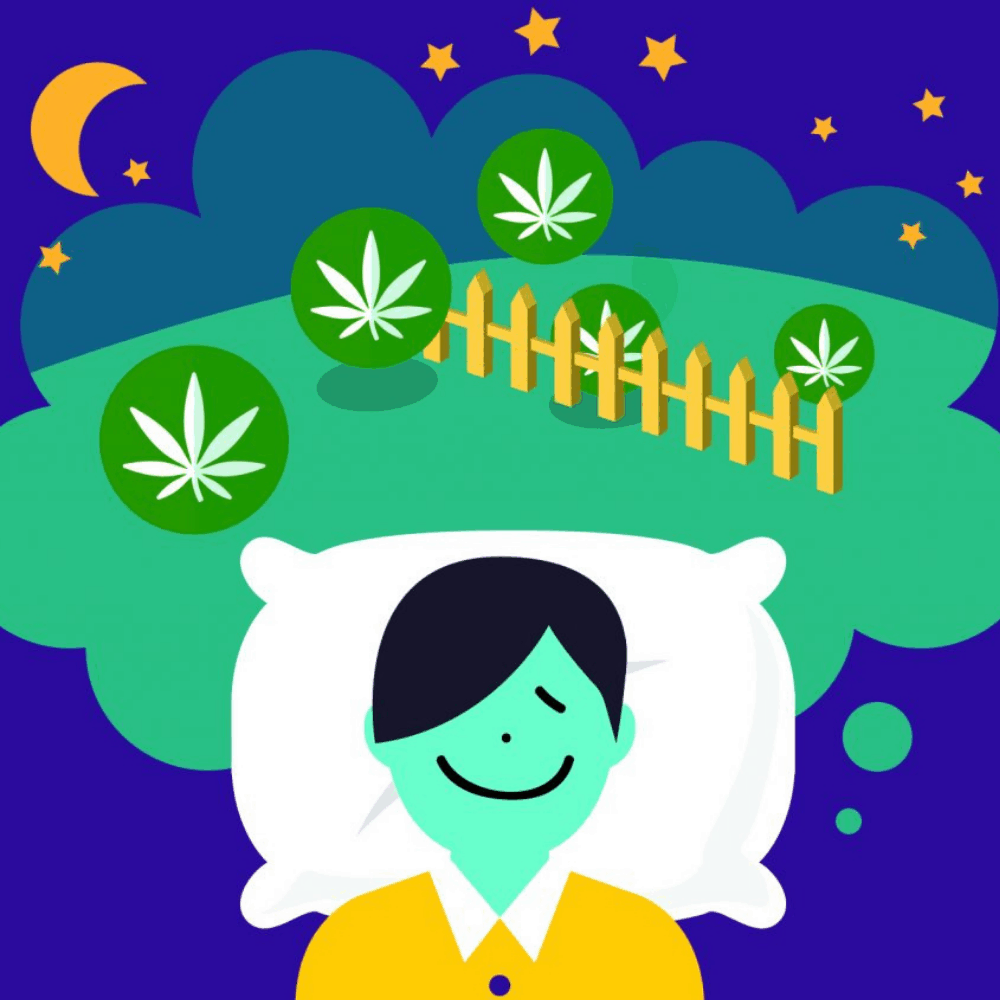 Smoking Weed before Bed – Is Smoking Weed before Sleeping Safe?
The sleep-inducing effects of cannabis are well-known with certain strains having heavy sedating effects that can deliver the user into a slumber than can last hours on end. According to the National Sleep Foundation, more than 50 million people in the US suffer from sleep disorders. With cannabis seemingly coming as an alternative to chemical infused medication, users are wondering if smoking weed before bed is safe.
Smoking weed before going to bed is common among marijuana users. But, why do people do it? And is it safe? These are the questions we will answer in this post while covering a range of other topics related to cannabis and sleep.
In the same article by National Sleep Foundation, it states that 30 – 40 % of the people in the US succumb to insomnia at some point in their lives with 10-15 % of the people experiencing chronic insomnia. Most strains of cannabis can alleviate the symptoms of insomnia and other forms of sleep disorder. The compounds of the plant mimic the function of endocannabinoids in the brain which is responsible for regulating sleep. As a result, you sleep longer and have a night of more quality sleep.
The classification of cannabis – Indica and Sativa – and the compounds of cannabis (THC and CBD) plays an important role in inducing and regulating sleep. Let's have a closer look at how these things affect your sleep. 
How CBD and THC Affect Your Sleep?
If you are at all familiar with cannabis and its various strains, you know that not all plants are created equal. Cannabis has thousands of different strains with different levels and types of high. THC is a compound in the cannabis plant that determines the amount of high – more THC more high. While CBD is another compound that users look for in the weed. CBD does not make you high but is important as it relieves a wide range of medical conditions.
Some strains of cannabis can get you high (high THC percentage – low CBD percentage), no high (low THC – high CBD), while there are strains with a near equal proportion of THC and CBD inducing a moderate-high. But the question is, which strain is good for smoking before bed?
Studies on cannabis is still in its early phase. While most of the research is conducted on the THC compound, there is not much evidence to suggest the impact of CBD on sleep. High THC in cannabis is confirmed to induce sleep. THC reduces REM sleep, which is responsible for dreams. This means that users have no dream which in turn results in a deeper sleep. For people who suffer from PSTD, it can mean no nightmare and more quality sleep. THC also has a sedating effect which can make the user drowsy, lethargic, and untimely doze off.
Coming to CBD, even with the lack of evidence, there are suggestive cases that indicate that strains with high CBD content can help people suffering from somnolence.
Different classification of marijuana has different effects on sleep. Some will help you sleep while others will keep you wide awake. If you are planning on smoking cheap weed from online before bed, let's see which to choose – Sativa or Indica.       
Indica vs. Sativa vs. Hybrid – Which to Choose for Sleep?
Indica, Sativa, and Hybrid are the three classifications of the cannabis plant with hundreds of sub-classification in each category.
The Indica species of the cannabis plant is known for its physical sedating, relaxing, and sleep-inducing effects, which makes indica the best strain for smoking weed before bed. Sativa, on the other hand, is touted to be an active strain with uplifting cerebral effects. This strain makes you incredibly active suited for physical activity and social settings. If you consume cannabis of Sativa classification, sleep will be the last thing you obtain.
Whereas, the Hybrid classification is a combination of Indica and Sativa. Depending on the ratio of Sativa and Indica in the Hybrid, the effects can be more body or cerebral. Regardless, the Hybrid strain of cannabis provides the effects of both Indica and Sativa. If you are looking for just a body high but do not necessarily want to fall asleep you should try marijuana edibles.
Aged Cannabis for More Sleepy Effect
Now, this may come as a surprise, but the compound of cannabis transforms when it ages. The THC becomes CBN which has a soothing effect on the brain. This makes the cannabis plant several times more sedating than THC.
Marijuana Shortens the Time it Takes to Fall Asleep
According to a study by Dr. Rolando Triangle, cannabis reduces the time it takes to fall asleep. From a study conducted on users, it was obtained that cannabis allowed people with difficulty to fall asleep 30 minutes early and people with no sleeping difficulty also slept 15 minutes sooner than normal. 
Weed helps you Sleep Longer
Among regular cannabis users, this is a well-known fact that smoking the cheapest weed online before bed results in a sleep that can last for hours with the users unable to be woken. In fact, the more potent or the higher THC in the cannabis equates to longer sleeping hours. However, consuming high amounts of THC also has its adverse effects such as THC hangover, which is worse than an alcohol hangover. The feeling you experience is distracted and dizzy. 
Cannabis Promotes Better Breathing
Research has concluded that cannabis helps in managing the symptoms of sleep apnea. If you are unfamiliar with what sleep apnea is, it is a sleep condition where the patient experiences frequent obstruction of sleep due to breathlessness, ranging from a breath lapse of a few seconds to minutes.
As you can imagine, this will make the patient wake up several times breathless causing a wide range of other problems that arise due to insufficient sleep such as tiredness, mood disturbances, increased chance of accidents, headaches, and other problems. Studies suggest that THC has the ability to restore the respiratory ability of the person suffering from sleep apnea.    
Weed Hinders REM sleep
What is REM sleep? REM stands for rapid eye movement. It's one of the five stages of sleep. As suggestive of its name, in this state, the eye of the person moves rapidly in all directions. It is thought that, in this state the mind experiences dreams.
Dreaming is good for most people but not everyone. People with PSTD or other ailments that make people experience regular nightmares, sleeping can be a nightmare. Cannabis is proven to inhibit REM sleep, meaning it prevents the person from experiencing this stage of sleep.    
Although, the REM sleep is hindered with cannabis use, stopping long-term cannabis use can make the situation worse with the patient experiencing more dreams that are more vivid in nature.
Pairing with Other Sleep Remedies Makes Cannabis More Effective
Smoking weed before bed and combining it with other sleep-aiding remedies can make the sleep more effective. Other remedies such as lavender, hops, and chamomile enhances the sedition effect of cannabis resulting in a deeper and more restful sleep. So, if you are using cannabis for better sleep, do not forget to mix the aforementioned remedies with cannabis. 
Cannabis Helps with Deep Sleep
Cannabis strains like super pink strain has an impact on another type of sleep called slow-wave sleep or deep sleep. Studies have concluded that cannabis promotes the amount of deep sleep of the user. There are several benefits of deep sleep as the mind grows intellectually during this type of sleep. It also supports short-term and long-term memory growth. At this stage of sleep, the pituitary gland saps essential hormones such as growth hormone which is responsible for the development and growth of the human body. To sum it, deep sleep is very important and cannabis helps you obtain this state of sleep.
Additionally, most of the sleeping disorders that occur among patients are due to a lack of slow-wave sleep. So, with the use of cannabis, you also stand to gain relief from a variety of sleep disorders.
To Conclude On Smoking Weed and Sleep
Cannabis is a great remedy for a wide range of ailments. Smoking weed before bed allows you to have a better quality of sleep. Through this article, we have also observed that cannabis is great for patients suffering from insomnia and other sleep disorders. People who suffer from sleep apnea also stand to gain from the benefits of cannabis use. Aside from aiding in sleep, cannabis also helps relieve chronic pains, which in turn can allow you to sleep better.
Lack of sleep is associated with a wide range of ailments, which can be managed with the help of cannabis use as it promotes better sleep. However, it's essential that before you choose the strain of cannabis, you check that the strain is appropriate for inducing sleep. Ideally, the cannabis strain should be Indica (sleep-inducing type of cannabis plant) with a high THC percentage.